Community

In these early stages, we're very lucky to have received glowing support from a host of individuals and organizations. Currently we are collaborating with NeighborSpace, the City of Chicago, and Altamanu to design, acquire land, and build our first orchard in Logan Square. We're fortunate enough to benefit from the invaluable expertise and advise of organizations such as MidFex, RAFT, Earth First Farms, the Chicago Botanic Gardens, Logan Square Kitchen and Ginkgo Organic Gardens. With groups like Slow Food Chicago, Slow Food USA, and Uncommon Ground we have already started to develop partnerships that will support us for years to come. As our project matures we'll be reaching out to more people and organizations to get involved and lend a hand.

We are also committed to giving back to our community. Once our orchard is bearing fruit, half our harvest will be distributed back to the community. The nature of this distribution will depend on where our orchard finds a home, but possible partnerships include foodbanks, nearby schools, or open-picking days for the neighborhood.

Dave Snyder has been working in community-based agriculture in Chicago for seven years.  He is a steering committee member at Ginkgo Organic Gardens and currently runs the rooftop farm at Uncommon Ground.  Previously, Dave has worked as an academic administrator, radio producer and cartographer.  You can read his occasional blogs at the Huffington Post.

Megan Larmer has extensive experience in the non-profit sector and as a restaurant professional.  She brings fundraising, event planning and public relations skills to the board of CROP.  Currently she also serves on the board of Slow Food Chicago, gardens a little plot, and cooks overly elaborate meals in her even littler kitchen in Logan Square.

Vanessa Smith is interested in growing, eating, and preserving food and the stories and culture behind it.  She grew up on a small farm in southern Minnesota and migrated to Chicago 8 years ago, where she now works in an art gallery and dedicates her spare time to urban agricultural pursuits including organizing with CROP, beekeeping, chicken raising and gardening.

Erin McMillan has interned and worked in urban agriculture and nutrition education for multiple organizations in Chicago. Having resided in Logan Square, Chicago for almost 4 years she has a vested interest in seeing the neighborhood have public access to both of these areas that she holds so dearly. Her area of interest within CROP is in education and public outreach.

Doug Lynch is a PhD student in ecology at the University of Illinois at Chicago, where he studies the impacts of urban green space on local air quality. He holds a masters in plant biology from Northwestern University. Doug also serves on the steering team committee at Ginkgo Organic Gardens.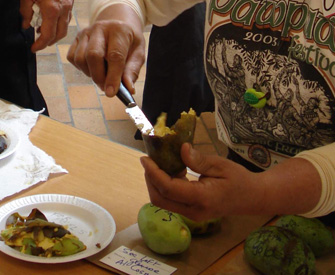 Oriana from the Midwest Fruit Explorers peels a pawpaw. Photo by Erin Foley.